---
Show Boat
Music: Jerome Kern
Libretto & Lyrics: Oscar Hammerstein II
Licensing: Rodgers & Hammerstein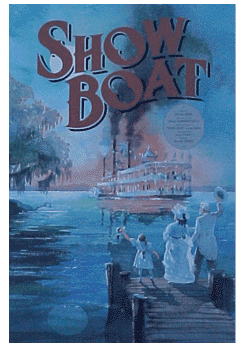 Perhaps the most influential musical of the twentieth century, Show Boat combined the talents of Jerome Kern and Oscar Hammerstein II, both of whom had felt for some time that Broadway musical theatre was suffering from a lack of depth and needed to steer away from the fluffy musical comedies and melodramatic operetta that it was accustomed to. After choosing for their subject Edna Ferber's sprawling novel of life on the Mississippi, Kern and Hammerstein set out to deal with issues such as unhappy marriages and racial prejudice.
When Jerome Kern first spoke to Edna Ferber about his idea to create a musical from her novel Show Boat, the author thought he was crazy. (Ewen, 473). The conventional musical theater during the 1920's was comparable to Vaudeville, with side-show attractions and comedic routines. He eventually convinced Ferber by explaining to her his plans for a revolutionary new approach to musical theater, an imaginative reinterpretation of what was appropriate subject matter for musicals. The result of his effort was the first true combination of music, lyrics, plot, and authentic characters in a theatrical work.
This was a new era in the world of musical theater. Jerome Kern and Oscar Hammerstein II's blend of music, lyrics and libretto essentially paved the way for future theater. Show Boat changes the course of theater, redirecting the emphasis from the heavy operettas and the superficial music comedies which had dominated Broadway. As mentioned, the characters were far more three-dimensional and realistic, and the integration of music and plot was far more skillfully manuevered. Perhaps most importantly, Kern and Hammerstein strove to focus on a more elaborate and uncoventional topics. Show Boat manages to investigate such topics as race relations, miscegenation, and unhappy marriages while remaining entertaining and musically beautiful. This balance is an eternal legacy of the original production.
The story, which spans almost fifty years, deals primarily with the fortunes of an impressionable young woman named Magnolia Hawks, her father who owns a show boat named the Cotton Blossom, and a troubled riverboat gambler/actor named Gaylord Ravenal. Magnolia and Gaylord fall in love while acting on the Show Boat and eventually marry and move to Chicago. They separate, however, after Gaylord loses all of their money gambling. The subplot involves Magnolia's mulatto friend, the tragic Julie La Verne.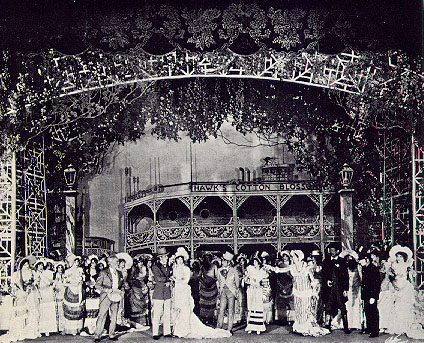 Show Boat opened at the Ziegfeld Theatre on December 27, 1927 and ran for 572 performances. It has been revived numerous times after its closing in 1929, the show was revived on Broadway in 1932 at the Casino Theatre, in 1946 (a return to the Ziegfeld Theatre), in 1983 at the Uris Theatre (presented by Douglas Urbanski), and in 1994 at the same theatre. Other American productions include one in 1966 at the New York State Theater in the Lincoln Center, two (1954 and 1961) at the New York City Center, and the 1983 Washington, DC, Kennedy Center production, which starred Mickey Rooney as Cap'n Andy.
Show Boat also spawned several film versions including the 1929 film with Laura La Plante, the 1936 film with Irene Dunne and the 1951 version with Ava Gardner and Howard Keel. The original cast included Charles Winninger, Norma Terris, Howard Marsh and Helen Morgan.
Perhaps Show Boat is best described by The American Theatre Index:
"With Show Boat a new art form emerged in the American musical theatre for the first time: the musical play as distinguished from musical comedy. Here was a rich, colorful, nostalgic chapter from the American past filled with humour, gentle pathos, tenderness and high drama. It bewitched the eye, ear and heart. It was a revelation; and it was a revolution. Here was something unique for the musical stage of that day: an American musical comedy with dramatic truth; a plot with a logical, believable line; a love story that rang true. Here were three-dimensional characters in place of the cardboard images previously populating the musical stage. Here were authenticity of background and atmosphere. Here were dialogue and lyrics that were supple, fresh and imaginative -- capable of soaring to poetic heights without abandoning the vernacular and the idiomatic. And, finally, here was a musical score which was an extravagant outpouring of the most wonderful melodies. Though it was a pioneer in creating a new genre in the musical theatre -- and though many remarkable productions since 1927 have developed the musical play into a genuine art form -- Show Boat still remains one of the best of the species. In its frequent revivals, whether on stage or screen, Show Boat still never fails to cast a spell on audiences."