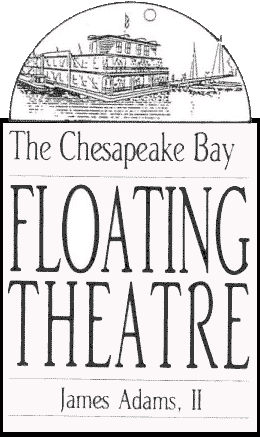 ---
Chesapeake Bay Floating Theatre, Inc (CBFT) is currently raising funds to reinstate our 501(c)(3) non-profit status as a professional theatre dedicated to revitalization, economic development, cultural enhancement and education through construction and operation of the James Adams II Floating Theatre along with other community focused projects.
As a part of the American repertory theatre movement of the early 20th century, the Floating Theatre was an important cultural resource for people in metropolitan, rural areas and small coastal towns. Once completed we will launch the James Adams II to take traveling theatre to many of the same ports of call visited by the "Original Showboat". This cultural tourism site will interpret the reality of traveling repertory theatre from 1914 to 1941.
CBFT managed the Indian Head Center for the Arts, in Indian Head, MD, and served the Targeted Investment Zone of Indian Head and the Southern Maryland Heritage Area, as well as metropolitan Washington, DC. CBFT produced live theatre, music, dance, readings, and other artistic endeavors. With outreach programming such as theater labs, apprenticeship programs and community-centered performances, CBFT is achieving its ultimate goal of recreating the experience of the James Adams Floating Theatre, the showboat that traversed the Chesapeake Bay in the early 1900's.
Contact Information:

Chesapeake Bay Floating Theatre, Inc
4185 Indian Head Hwy
Indian Head, MD 20640
301-743-3040
Email Us
Site Activity

© 1996 - present, dem.com
URL:
http://www.dem.com/