---
Floating Theatre's Perils
The James Adams Floating Theatre faced It's share of problems and perils during it's 27 years of operation.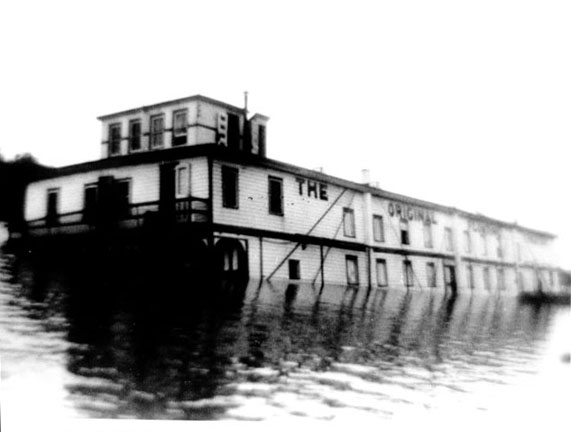 July 4, 1920 - Sank in a fierce storm while crossing the Chesapeake Bay from Onancok to Reedville, VA. After reaching port half of the floating Theatre's help, including the cook, took off for parts unknown.
November 24, 1927 - The boat sank after striking a submerged object about five miles from Norfolk Virginia. Her hull was raised and towed to Norfolk for repair but not without cutting two gas lines and a Western Union Cable along the way. The loss was uninsured and included the actors costumes, which they paid for themselves.
November 16, 1929 - The James Adams Floating Theatre sank again after hitting a submerged stump in the Dismal Swamp Canal. She was repaired and refitted once more in time for the 1930 season.
November 6, 1938 - A third sinking took place after hitting a snag in the Roanoke River and was refitted again.
The Floating Theatre Ends ....
While several attempts were made over the years to copy The James Adams Floating Theatre, the most serious competition came in the form of the Show Boat Players in 1937. Charles Hunter and his wife Beulah Adams left at the end of the 1936 season to form their own show. They joined former show boat stars Jack Pleiffer and Gladys Pennington. The Show Boat Players worked many of the same towns as the Floating Theatre.
The Floating Theatre's last show was at Thunderbolt, Georgia (near Savannah) in January of 1941. Shortly thereafter the boat and its tugs were sold at auction to EA Brassell of Savannah for $6,000. Unfortunately the boat was a victim of tough economic times, the development of mass entertainment, taxes against traveling theaters and the decline of steamboat traffic which led to an accompanying decay of available wharves.
November 14, 1941 - The floating Theatre was destroyed by fire while being towed to Savannah to be fitted as a cargo barge.